As innovators in our field, Entinex is widely published, copied, referenced, and Entinex leadership is routinely asked to speak at meetings, events, and conferences worldwide.
Our founder's new book, High Performance Operations: Leverage Compliance to Lower Costs, Increase Profits, and Gain Competitive Advantage (FT Press 2012), is meant for executives with the big-picture in mind who are fully aware of how well their operations are (or aren't, as the case may be) working. In particular, it's for executives in businesses whose operations are impacted by compliance of one form or another. Most importantly, it's for executives who are willing and ready to step-up out in-front of the crowd and make changes in how their operations function to improve overall performance. Excuse-makers and victims need not bother.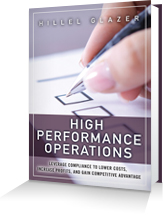 Carrying-out the recommendations in the book requires the decision-making authority to allow change to happen. In many cases, changes are needed in ways of working that have been static for years. What's prevented the business world from making changes of this sort has often been the sting of many failed prior attempts at instituting the alternate approaches.

High Performance Operations eliminates this risk by providing a thoroughly-devised and operationally-proven approach that prior attempts seemed to lack. There are several areas in the book that, admittedly, warrant far more material and discussion than I've included. Not because I intend to drag-out the discussion into more books, but more so because these areas fall into a few general areas. Areas already covered in good detail by other work, or areas far beyond the scope of a business operation. An example of the latter is the deeper socio-political underpinnings of issues such as taxes, wages, and privacy. I could also have spent an enormous amount of time on similar topics -- and come to no conclusion -- where the issue addressed is infinitely telescopic such as what constitutes "bureaucracy" for one person is "work flow" for another.
What some people have had to say about the book
Hillel Glazer sets about busting the myth that regulated industries and high performance operations are mutually exclusive. As a tax payer, I personally hope this book is widely read and its ideas rapidly adopted!
»» David J. Anderson, author of Kanban: Successful Evolutionary Change for your Technology Business
Hillel has written a very important book. Readers should not limit themselves or be misled by the focus in the subtitle regarding 'compliance.' This is a book about total system performance regardless of compliance issues. It is clear, even in the absence of compliance compulsion, that the ideas in High Performance Operations are not only useful but critical to providing value to employees, customers, and owners in any business. The space devoted to understanding operations as a system rather than a collection of parts is the key to success, again, regardless of compliance issues. Essentially this book is a wolf in sheep's clothing. It is profound and covers many important aspects of business. There are very few books with both the scope and the depth of what is covered in High Performance Operations.
»» Jeffrey Schraeder, Viable Vision Expert, Goldratt Consulting
Compliance, love it or hate it, whether with the laws of nature or the laws of man, can be embraced without sacrificing productivity or profits. Not possible? Wrong. Not only will Hillel show you that it is not necessary to sacrifice productivity, he will show you how to enhance productivity and profits within the defined constraints. In order to understand how this is possible one must first recognize certain facts. First, constraints, no matter their origin, create both intended and unintended consequences. Second, most problems have optimal but not perfect solutions. And third, repeatable processes with predictable outcomes are key to consistent, high quality performance.

The same concepts I was taught as a young, aspiring engineer Hillel has refined, defined, and articulated in a concept he calls solution engineering. In simple terms and logical examples Hillel explains how solution engineering and its application to the modern enterprise becomes an enabling force that results in high performance teams and profitable businesses.
»» Robert Rosenbaum, President and Executive Director, Maryland Technology Development Corporation
Hillel Glazer has a unique way of taking the theoretical, the esoteric, and turning it into something that can actually be of practical use -- that's a rarity these days -- and he does it in a style that is easily understandable. As a practitioner myself, out in the 'real world' where we have to actually get product out the door, his insights are much appreciated and often applied.

Hillel was one of the first to recognize that 'high performance' and 'compliance' are not mutually exclusive. It's a battle he's been fighting for years now -- I'm glad to see that some of those walls between the 'high performance' camp and the 'compliance' camp are finally starting to come down. This book should help speed that process along.
»» Jim Shaver, Senior Director, Development Process Improvement, Office of the CTO, McKesson Corporation
You can read Hillel's blog and get more information about the book here. It is also where most of the current content can be found and is updated regularly.
Links on the left of this page are to archives of earlier works, as well as to some persistent content that's as relevant today as it was innovative when it was created.
Please have a look around and enjoy!
All feedback is welcomed. Please contact us.